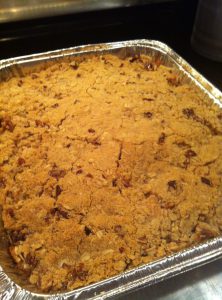 I'm not one to get homesick. Just ask my mother. After school and boy scout trips when I was younger (yes, I was a boy scout, Eagle in fact), kids would run to their parents in dramatic reunions after having been apart for a week. I would get off the bus, walk unfazed past all the absurdly dramatic homecomings, find my parents, and say  "hey". Thereafter I would launch into tales of my time away and lament that it had to end so quickly. Heh. They were good sports. In my adulthood I am much the same, making a home for myself wherever I live. But, after residing in SoCal for three years I've realized that there is in fact one thing that makes me nostalgic: fall. As my fellow New Englanders begin to feel the first bites of cold as they pick apples, sip warm cider, and roast pumpkin seeds, I continue to sweat my ass off in relentless 100-degree desert. Now that makes me homesick.
Last week Los Angeles finally got a break. We got a good four days of temperatures in the 60s. We even had rain — no, not just rain, but a THUNDERSTORM that streaked cragged bolts of lightning across the darkened sky. I was so excited I tweeted and facebooked about it. Most of my friends and family from the east coast were confused as to why I would post about such a thing. Believe me when I tell you that rain is a rarity here. And thunderstorms? Forget it.
In the midst of this brief taste of fall weather, I jumped at the opportunity to bring the New England to Cali via a delicious dessert. What else would you expect from the Starving Artist? In my opinion there is nothing that evokes fall more perfectly than an Apple Crisp. And friends, let me tell you, I make the best effin apple crisp – and I don't say that lightly. Friends wait for this one all year long. If you can attest, please leave some comment love below. On Friday I made the first one of the season for a group of composer friends at my friend Joe's house in Venice. This is the same Joe who smokes his own ribs. Yummy. I'm happy to report that after the crisp was served to the 10 people at the party, 10 completely empty bowls came back into the kitchen. As a cook, there is nothing more rewarding than empty plates.
If you'd like to bring some warm fall goodness to your family and friends, give this recipe a shot. You will not be disappointed. What's my secret? There's two: maple syrup and pecans. Oh yeah. My favorite apples to use for this are Macintosh, but they don't really have them (at least not affordably) on the west coast, so instead I use Granny Smith. So. Good. Also, if you're a big apple dessert person, I highly recommend the device pictured to the right. What is it, you ask? Why, it's an apple peeler corer slicer! Peels, cores, and slices all in one motion. When I first saw this at my friend Susan's house in Vermont I all but lost my sh*t. And, perhaps even more mind-blowing, it can be yours for less than $20 on Amazon, just click here. So worth it.
But the best part about making this dessert is the smell. It fills my apartment and drifts down the hallways of my building. As I walk my friends to my apartment door they get a whif and say "oh my god is that YOU?" Oh yes. It's me.
Just make me one promise – you will ALWAYS serve this warm with vanilla ice cream. Promise? Good.
More fall favorites coming your way soon!
Recipe —> Famous Apple Crisp