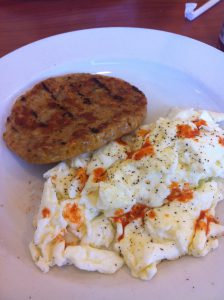 Perhaps one of the greatest features of the fitness studio I spin at in Toluca Lake is its close proximity to
Paty's Restaurant
. Oh yes, it's a diner, and we all know how much I love love love diners. I was introduced to this establishment by dear friend Tim who I spin with regularly. An innocent post-workout breakfast quickly turned into a ravenous craving that surfaces every time I'm up there. And who could blame me? It's everything you could want – counter seating, reliable staff, regular local clientele, breakfast served all day…. it's that intangible yet unmistakable quality that you find only at a good diner, and Paty's definitely has it.
So I like this place for many reasons: the adorable little waitress who always waits on us, the old booths, the fabulous outdoor seating, the hot cops that come in and sit at the counter… but what really makes it for me is the "Fitness Menu". Being that we are in California, land of Yogis and the overly conscious self-image, there is quite a large market for healthy dining options. I am no exception to this since I come here only after vigorous workouts. My go-to breakfast is "The Treadmill": a grilled veggie patty with egg whites topped with copious amounts of Tapatio hot sauce (also very California). Normally this comes with brown rice and choice of toast or bran muffin. Neither toast nor bran muffins are on my healthy eating regimen, so I just skip them. And is it not hilarious that one can get brown rice at a diner? This is why I love California.
Being a breakfast whore, I have never gotten any lunch or dinner items at Paty's, BUT one of my friends who I recently brought onto the Paty's train got an omelette filled with their famous chili and beans, which he said was super good. Also I love their turkey patty, which I usually get these days instead of the veggie as I'm trying to avoid gluten at all costs. Very juicy, very delicious. And let's be honest, when I want to splurge I get the corned beef hash and eggs. Diner breakfast bliss.
Now I have to do my starving artist duty and tell you that the service is not always perfect. Some of the waitresses that work in the morning have more personality than others and sometimes the kitchen seems to be asleep. When I ordered the pictured breakfast yesterday morning, the veggie patty inexplicably took a lot of extra time to cook and came out at least 5 minutes after the egg whites. Once I went in with a group of friends – it was the week before Christmas. The place was crowded, the waitresses were training new staff so they took the food took forever, came out at different times,  – it was sloppy. My meal didn't come for a good 5 minutes after everyone else's. The waitress was very aware of this and apologized several times. When it came time to pay the bill, my meal was no where to be found. A nice gesture that more than made up for it. And you know, I don't think there is any restaurant that doesn't occasionally have a bad day. Especially one you frequent as often as I frequent Paty's. And I also have to call out that they break one of my good diner rules! They aren't open late – only 10pm. But who are we kidding, it's Toluca Lake. No one is out late.
So what's the verdict? Paty's is totally starving artist – enjoy a great diner atmosphere with great diner food for around $10. I love being a regular here and look forward to many more breakfasts in the years to come.