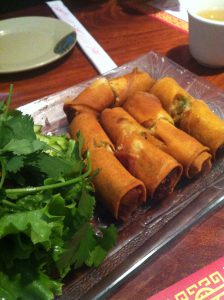 Some weeks ago, in the midst of the bitter Los Angeles winter (ha), my friend Sherri and I decided to combat the cold by seeking out some warm, soul filling Thai food. Sherri suggested an adorable little place in her neck of the woods called Leela Thai, a quaint little shack-of-a-place  on Silverlake Blvd that has an exterior brimming with foliage and quirk. The restaurant's dining room is cozy, barely big enough for 20 people. Luckily the Los Angeles cold keeps the natives at home, so we were practically the only ones in there (which was admittedly still a little strange for a Friday night). It's hard to get a read on the atmosphere with so few people in the place, but I can say that the family-run business absolutely felt that way with their warm and friendly staff. I was particularly enamored with their unique table dressings. Instead of just plain glass, they lined each table with handwritten notes, old polaroids, and various other memorabilia  from customers and family members. A very colorful touch to what would be an otherwise nondescript dining area.
As for food. We shared the vegetarian spring rolls, which were hot and delicious – easily could have railed through another order. I had their wonton soup, which was very well done and absolutely perfect for such a cold evening. For my entree I ordered a shrimp combo meal, which comes with rice (and allows you to add soup for only $2). Though tasty, it was not exactly what I was hoping for. A very scant portion of clumsily chopped vegetables and a few shrimp that really had to be combined with all the rice to make a substantial meal. However, a place that will serve brown rice without charging me extra for it always scores mega points in my book. Sherri got the pad thai, which they fouled up on the first pass by adding chicken (she is a vegetarian). The mistake was fixed quickly and with a smile – always a good thing. 
At the end of the day we were able to enjoy a meal with appetizers and soup for less than $30, which is never a bad thing for the always wallet-deficient starving artist. Though a quiet restaurant can be suspicious, it is always good for catch up and gossip, of which there was plenty. While I was not completely blown away by my experience here, I do look forward to returning when I'm in the mood for some cheap, decent thai food in a quaint and intimate setting.
Leela Thai
1737 Silverlake Blvd.
Los Angeles, CA 90026
www.leelathaila.com
Click here to read this and other reviews on YELP