When anyone asks my number one dream food destination, it is hands down New Orleans. Even though I've never been, I have a particular affinity for making Cajun cuisine. Perhaps it's my love of bold seasoning that draws me to food from the Bayou – long, slow cooking with layers of spice, smoke, and heat.  Perhaps it's my love of seafood – I am, after all, a New Englander. Or maybe it's just because it's so friggin good.
If you're new to Cajun cooking, you may not have heard of something called "the trinity." In French cooking, it's called mirepoix. This blend of three vegetables serves as the aromatic base for all the soups and stews we know and love: 2 parts diced onion to 1 part diced celery and 1 part diced carrot. Leeks can also be used for the onion component, which is excellent for chicken soup. Different cuisines and cultures have their own variation of mirepoix. In Italy it's called soffritto or battuto: it's the same as mirepoix, except they add parsley and garlic. Spanish cuisine also calls it sofrito, but their mix is tomato, red bell pepper, onion, and garlic. In New Orleans, they have trinity: two parts diced onion, one part diced celery, and one part diced green bell pepper. It's the foundation for everything Cajun-Creole and is what delivers that deep, complex flavor.
I am a big fan of one-pot cooking and it just so happens cooking the rice right in the stew is the traditional New Orleans way to make it. No extra pot for rice – woot! This is one of my favorite cold-weather, all-in-one, warm-my-soul recipes. Hope you enjoy!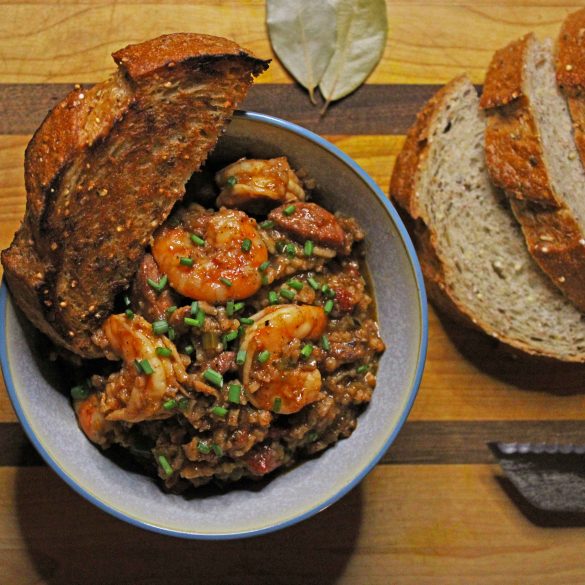 Ingredients
2 tbs butter
1 pound boneless skinless chicken thigh, cut into bite size pieces
12 oz Andouille sausage, sliced on the bias in ¼ inch slices
1 pound medium raw shrimp, deveined, tails removed
1 large onion, white or yellow, chopped finely
1 medium bell pepper, chopped finely
3 stalks celery, chopped finely
3 cloves garlic, minced
1 cup long grain white rice
1 14.5 oz can fire roasted diced tomatoes
2 tbs Cajun seasoning (see note below)
2 tsp hot sauce (Louisiana is best for this recipe)
1 tsp Worcestershire sauce
2 cups chicken stock
2 bay leaves
¾ tsp kosher salt
green onions for garnish
Instructions
Place chicken in a bowl with 1 tbs Creole seasoning and toss thoroughly to coat.
In a large dutch oven over medium high heat, melt the butter and brown the chicken on all sides. You will have to work in batches so as not to overcrowd the pan (if you overcrowd, then the chicken won't brown)
Set cooked chicken aside, then add the Andouille sausage to the pan and cook until brown on all sides, adding more butter if necessary. About 3 minutes.
Remove the sausage. Add the onion, celery, bell pepper, rest of the Cajun seasoning, and cook until soft, about 4-5 minutes.
Once cooked, add the chicken and sausage back in the pot along with the rice, tomatoes, hot sauce, Worcestershire sauce, salt, and stir to combine. Add chicken stock and bay leaves.
Bring to a boil, then reduce heat to low, cover, and simmer for 20 minutes, giving one stir around the halfway point.
Add shrimp, cover, and simmer for another 5-10 minutes until shrimp are cooked and rice is soft.
Serve topped with sliced green onions
Notes
You can use your favorite Cajun seasoning or make your own. Here's my recipe:
1 tbs garlic powder
1 tbs onion powder
1 tbs paprika
2 tsp dried thyme
1 tbs dried oregano
1 tbs dried basil
1 tbs tsp cayenne pepper
1 tsp kosher salt
1 tsp freshly ground black pepper
Combine everything in a spice grinder and grind into a fine powder. Store in an airtight spice jar until ready to use.