Have you ever had an icebox cake? Sometimes also called a refrigerator cake? It's one of those confections that you can't quite put your finger on. It's a cake, but not really, sort of a pudding, but not really a pudding…. All I know is that the texture created by cookies being sat in whipped cream overnight is utterly craveable (I don't think that's a word, but it is now). Not mushy, and certainly not crisp. It's soft with a pleasant bite that is so satisfying. And the good news is you can make an icebox cake out of literally whatever cookies you want.
I had sort of forgotten about icebox cakes until the other night when I was catching up on all the new episodes of Alton Brown's Good Eats on discovery+.  He has an entire episode devoted to this wondrous confection called Let Them Eat (Icebox) Cake. As soon as I watched it, I got a hankering for that one-of-a-kind texture and had to make one. Of course, I put my own spin on it as is the Starving Artist way. One thing I definitely kept is his use of gelatin in the whipped cream – essential for stability.
Though I know it can be one of those polarizing combos,  I am a huge fan of chocolate and mint. My favorite girl scout cookies are thin mints, my favorite Ben & Jerry's is Mint Chocolate Cookie; I almost never drink alcohol, but when I do, it's usually a grasshopper (or some other obnoxious cocktail that tastes like a candy bar). When I discovered that my favorite cookie of all time, Oreo, added a mint version to their lineup however many years ago now, I was floored. For whatever  reason that's the first flavor that came to mind when thinking about an icebox cake. But not just regular mint Oreos, mint Oreo THINS. Have you tried the "thins" variety yet?? It will change your life, I promise. They're so delightfully delicate and crispy and the perfect complement to the Famous Chocolate Wafer Cookies that are synonymous with icebox cake.
Alton Brown's recipe is a mocha take, which is another top favorite flavor combo of mine, but when I make this again I'm going even further – Tiramisu. But for now, enjoy Oreo Mint!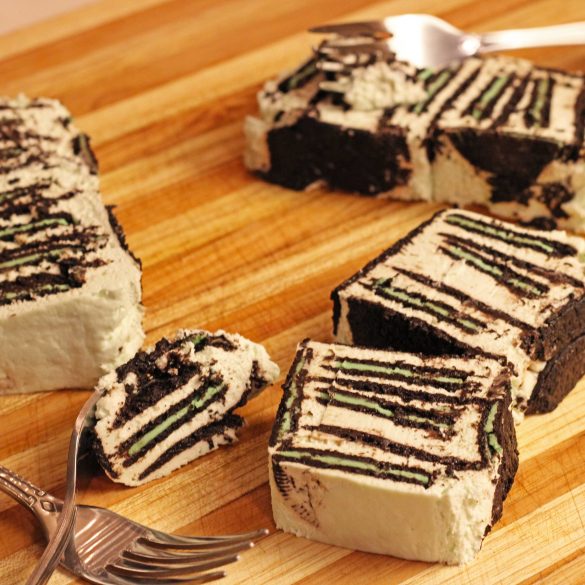 Ingredients
1 package Famous Chocolate Wafer Cookies
1 package Oreo Mint Thins
1 packet powder gelatin
3 tbs creme de menthe liqueur
3 cups heavy cream, cold
1 tsp vanilla extract
¾ cup powdered sugar
¼ teaspoon kosher salt
Instructions
Line an 8-by-4-by-3-inch loaf pan with plastic wrap, leaving enough overhang in each direction to completely cover the top. Line the bottom of the pan with a single layer of wafer cookies and Oreos (cut them in half and arrange accordingly)
Sprinkle the gelatin over 1/4 cup cold water in a small saucepan and "bloom" at room temperature for 5 minutes. Then gently warm over low heat until just melted. (Do not allow to boil.) Remove from the heat and stir in the creme de menthe.
Whip the heavy cream, powdered sugar, salt, and vanilla in the bowl of a stand mixer on high until soft peaks form, about 1 minute 30 seconds. Reduce the speed to low and drizzle in the cooled gelatin mixture. Increase the speed back to high and whip to stiff peaks, about 30 seconds more.
Fill the prepared pan 3/4 of the way with the whipped cream mixture. Insert the remaining chocolate wafers and Oreos vertically (edge first) into the whipped cream, alternating between wafer and Oreo and leaving a sliver of room between each cookie.
Spread the remaining whipped cream evenly over the cookie rows. Top with a layer of wafers and Oreos just like the bottom. Fold the excess plastic wrap over the cake and refrigerate for at least 8 hours, overnight it best.
To serve: Pull back the plastic wrap and invert the cake onto a serving dish. Remove the plastic wrap, slice and serve immediately.
Notes
This cake is VERY rich. Once you take a bite you'll want to eat the whole cake, but take it slow! Start with thin slices and go from there.