I know, it's cold outside. Really cold. Maybe you're feeling under the weather or battling that nasty cold that's been going around. In your desire for some warm, soothing comfort, you open your cabinet, pull out the can with that ubiquitous red and white label, and reach for your can opener. No one blames you – we've all been there. The starving artist is here to tell you that you don't need to fall into this trap. You can have hearty, comforting, HOMEMADE chicken soup with that all-day slow-cooked rich flavor in less than 40 minutes. Seriously.
How does the starving artist do it? Let Costco do all the slow-cooking for you by grabbing one of their $5 rotisserie chickens. That cheap little chicken is all the depth and flavor you need to make a killer soup. With just a few additional ingredients – veggies, noodles, and stock – you're going to have the best soup you've ever had in practically no time at all. Watch the video and see how it's done.
This soup will last in your fridge for 5 days and also freezes very well if you happen to make too much.
I really REALLY want you to try this recipe. Homemade soup is perhaps the starving artist's greatest weapon. It is filling, it is healthy, and there is no other food that will give you bigger bang for your buck without sacrificing quality. Try it once and you'll never waste your money on canned soup again. Hooray!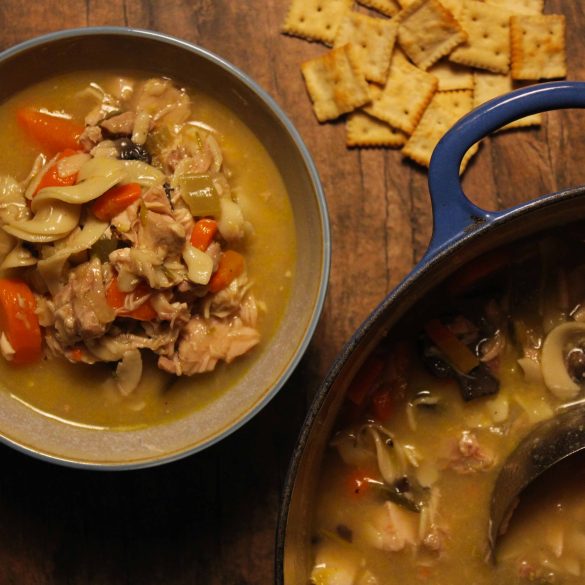 Ingredients
1 store-bought rotisserie chicken (I highly recommend Costco, but use your favorite)
2 tbs of butter
1 container of prepared mirepoix from Trader Joe's OR do it yourself:
1 medium or large white onion, finely chopped
3 celery sticks, finely chopped
2 medium carrots, finely chopped
1 package of cremini mushrooms, coarsely chopped
3 medium carrots peeled and thickly sliced
3 quarts (boxes) of your favorite chicken broth
2-3 handfuls of whole wheat or regular egg noodles
juice of 2 lemons (save the zest for the bouquet)
Bouquet Garni
put all ingredients in cheesecloth, wrap, and tie up with butchers twine.
1 bundle of fresh rosemary or poultry herb blend or any desired combination of fresh herbs
2 bay leaves (dried or fresh)
zest of 2 lemons (in large peels)
Instructions
Remove the chicken from its plastic container and drain all the glorious drippings that have gathered at the bottom of said container into your soup pot along with the butter and put over medium heat. Once heated, add the mirepoix and the mushrooms to the pot along with a few good pinches of salt and a few grinds of pepper. Cook until soft and translucent, about 6-7 minutes.
Once soft, add two and a half boxes of the chicken broth, bouquet garni, and the carrots to the pot, turn heat to high and bring to boil. Meanwhile, go to town on your chicken. Remove every piece of meat, skin, fat, and cut into bite size pieces.
Once you have all of your meat prepped and your soup has been boiling for about 6-8 minutes, add all the chicken to the pot, cover, and allow it to just return to a boil. When that happens, add your noodles, cover, drop your heat to low, and simmer for 7-9 minutes or until the noodles are soft done.
Once finished, kill the heat and remove your herb bundle using tongs or a fork. If desired, add additional broth to your soup from the remaining third box. And get ready for the best and quickest chicken soup you've ever had in your life.