I've recently discovered that there are a fair number of people who don't like pecan pie. Such a concept is baffling to me. How can you not like pecan pie? The texture, the uplifting notes of vanilla and brandy… then I bought one from a store.  I now understand. For all of you who have been hurt by store bought pecan pie: I'm sorry. We have failed you. But, I beseech you, please: try this homemade one (or any homemade one). The difference is night and day.
I have to give props to Alton Brown, because this is really his recipe, I just swapped out bourbon for brandy. He also tops his with spiced pecans, which I just can't be bothered with, but I do highly recommend toasting your pecans before making the pie. It's super easy: just spread out an even layer of pecans on a half sheet tray and place in a 350º oven on the middle rack for 7-9 minutes or until you just barely start to smell them. Remove and let cool – that's it. Makes a HUGE difference for all nuts, not just pecans.
Also, note that the recipe calls for Lyle's Golden Syrup. It is IMPERATIVE that you find and use this ingredient. If you swap it for corn syrup, your pie will taste like the grocery store… and corn syrup. If you live in Los Angeles, I find it in the baking aisle at Gelson's with the rest of the syrups. Otherwise it is easily attainable online.
Finally, I want to tell you something that probably no other cook/chef/baker/blogger will tell you: store bought pie crust is ALWAYS OK. Are homemade pie crusts better? Yes. Do I make my own crust for this recipe? Yes.  Do I highly recommend making your own crust? Absolutely. However, if using a store-bought crust gets you to make your own pie, then by all means: Buy. That. Crust. When I find myself unable to deal with making a crust, I reach for Pillsbury refrigerated crusts. I was raised on these and they are by far the best flavor and the best flake.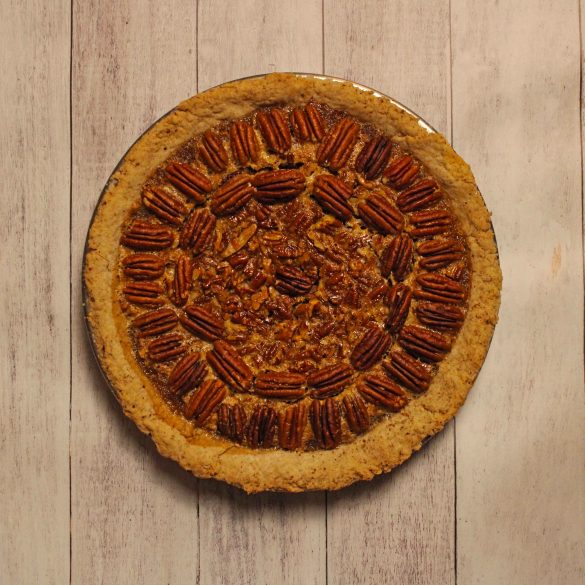 Ingredients
Crust:
4 tablespoons unsalted butter, cubed
3 ½ ounces toasted pecan halves or pieces
6 ounces all-purpose flour, plus extra for rolling
½ teaspoon kosher salt
2 tablespoons ice water
2 tablespoons VSOP brandy, chilled
Filling:
3 large eggs
3 ½ ounces sugar
6 ounces Lyle's golden syrup
4 tablespoons unsalted butter, melted and cooled slightly
1 tablespoon VSOP brandy
1 teaspoon vanilla extract
¼ teaspoon kosher salt
8 ounces toasted pecans, coarsely chop 6 ounces and leave the remaining 2 ounces whole
Instructions
Before you do anything:
toast your pecans (if not already):
Preheat oven to 350º. Spread all 11.5 ounces of pecans in a single layer on a half sheet pan and bake for 7-8 minutes or until you can just barely start to smell the nuts. Cool completely before assembling crust and pie. Can be done in advance.
To make the crust:
Chill the butter in the freezer for 15 minutes. Pulse the pecans in a food processor or until finely ground. Add the flour and salt, and pulse an additional 4 to 5 times. Add the butter and pulse 6 to 7 times, until the texture looks mealy. Remove the lid of the food processor, add the water and brandy, and pulse until the mixture just starts to clump together around the blade. Transfer the dough to a gallon-sized zip-top bag, squeeze together until it forms a ball, then press into a rounded disk and refrigerate for 30 minutes. You can make this the day before, just make sure you let it sit at room temp for 15 minutes before rolling out.
To assemble and bake the pie:
Heat the oven to 350º
Whisk the eggs, sugar, golden syrup, butter, brandy, vanilla, and salt together until combined. Set aside.
Remove the dough from the refrigerator. Cut along two sides of the zip-top bag, open the bag to expose the dough and sprinkle both sides very lightly with flour. Cover with the bag and roll out with a rolling pin to an 11-inch circle. Open the bag again, and sprinkle the top of the dough with flour. Lift the dough from under the zip-top bag and flip into a standard 9-inch pie plate. Gently press the dough into the sides of the pan, crimping and trimming the edges as necessary. Use excess dough to patch any holes or tears.
Evenly sprinkle the 6 ounces of chopped pecans in the crust and pour the filling on top. Bake for 20 minutes. Place the remaining 2 ounces of whole pecans in a border on the edge of the filling and wherever else. Bake 10-15 minutes, until the center no longer jiggles and a skewer inserted comes out clean. Cool completely on a cooling rack to room temperature before serving, 3.5 to 4 hours.