This recipe has been in my family for decades. Like many recipes are, this one showed up via a coworker of my stepfather back in the 90s. She would bring these pecans into the office around Christmastime, my stepdad would bring them home, and we would eat them all immediately – they are so good! Now this is the first recipe I make every year to include in my Christmas cookie boxes. It's so easy to throw together and you can start working on other recipes while these are in the oven. I always put these out in cute bowls for my Christmas party… of course this is 2020 so that won't be happening, but next year!
Definitely do NOT skip the parchment paper on the sheet pan – it will save you soooo much trouble when it comes time to clean up. Also, these can go from done to burned very quickly, so be sure you know your oven. If the middle rack tends to get hot, err on the side of safety and go one level higher.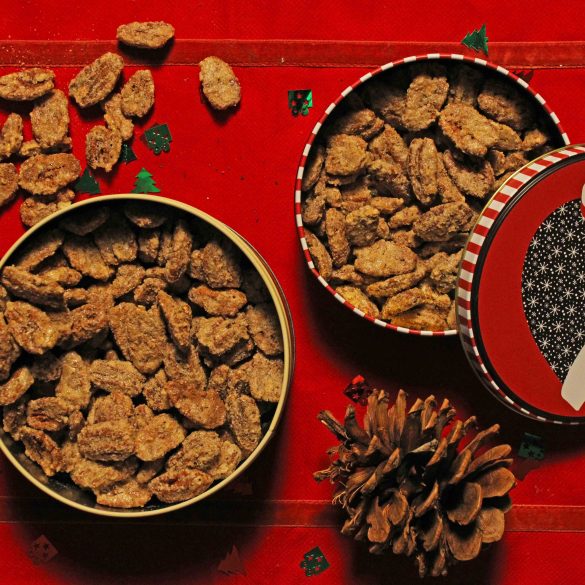 Ingredients
1 pound pecan halves
1 egg white
1 tbs water
1 C granulated sugar
1 tsp kosher salt
1 ½ tsp cinnamon
½ tsp fresh grated nutmeg
¼ tsp ground clove
Instructions
Preheat oven to 250º, place rack in center of oven
Place pecans in a large mixing bowl, set aside.
Combine sugar, salt, and spices in a small bowl, set aside
Place egg white and water in a small bowl and beat with electric hand mixer until very thick (medium peaks). Pour onto pecans and fold together with rubber spatula until pecans are coated
Pour sugar mixture over pecans and fold until all pecans are thoroughly coated
Spread pecans into a single layer on a half sheet pan lined with parchment paper (very important for easy cleanup!)
Place in oven on center rack and bake for 1 hour, taking out pan and stirring thoroughly every 15 minutes. When finished, remove from oven, give it one last stir, let cool on pan.
When cool, place in an air tight container for storage on your counter top. They will stay fresh for at least 2 weeks.
Notes
You can use whatever combination of spices you want. Some suggestions to try: cardamom, allspice, cayenne pepper, maple sugar